Jacobites, Roosevelt Graves, MSHB, Washington Phillips
SONG 1
You probably know / know of the Swell Maps, 70's English "post-punk" experimental rockout stuff. I'm pretty indifferent toward them, but so many good things came out of the band that they're hard to ignore. The bassist, Jowe Head, put out some (dud) solo stuff and played with the Television Personalities, Epic Soundtracks (yes, that's a person) joined Crime & The City Solution, and Nikki Sudden - the lead vocalist and guitarist - went on to form the Jacobites & play with people like Rowland S Howard. The Jacobites made (give or take) ten albums between '84 and '98 and with the exception of the last one, the ones I've heard have been real good. This track comes from their sophomore release
Robbespierre's Velvet Basement
; if you're discouraged by the feeling of affectation in this track, I'd recommend their
Ragged School
album instead.
Jacobites - Son Of A French Nobleman
SONG 2
The
Goodbye, Babylon box set
is the most lovingly constructed, glorious collections I've seen, including Alan Lomax's and Harry Smith's compilations. Six discs of amazing Lord-related material from the early-mid 20th century. One of the few people I knew before getting the set was (Blind) Roosevelt Graves, so I was pretty pleased to find one of his best recordings on the first disc. Buy this box set; you won't regret it.
Roosevelt Graves & Brother - Woke Up This Morning (With My Mind On Jesus)
SONGS 3 & 4 & 5
"In order to clearly discern good intentions, there is a necessity to transmit an accurate knowledge."
Maher Shalal Hash Baz are one of my favorite bands. Their releases aren't at all consistent but they've covered enough wonder-ground for me to embrace them as a favorite; I've listened to their records more than anything else in the last year and they instill a feeling of peace, beauty and complacency that no other non-classical music gives me. MSHB is led by Tori Kudo, with a backing band including his wife Reiko. Reiko's had some fairly nice solo albums but I'm not sure about her presence in other bands. Tori Kudo, on the other hand, has been all over the fucking place since the late 70's. Examples: Guys 'n' Dolls, Sweet Inspirations, Taco, A-Musik, Che-Shizu, Noise, Cock C'Nell, and some appearances on Nagisa Ni Te albums. For more on Tori, read this
interview
, by far the most informative, detailed and interesting thing I've read about him. The first and second MSHB tracks are two of the most-accessible songs from their most-accessible release,
Blues Du Jour
, which is no exception to the scattered, short-songed setup of the rest of their albums. The third comes from the intensely long
Return Visit To Rock Mass
.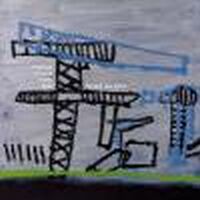 Maher Shalal Hash Baz - Good Morning & Peter Says


Maher Shalal Hash Baz - Please Mr. Glory
SONG 6
Relistening to the first couple discs of
Goodbye, Babylon
today reminded me of my favorite Washington Phillips track. He's definitely got a feeling about him that nobody else has; I'll let you decide for yourself. I pulled this from
Preachin' The Gospel: Holy Blues
, a collection of songs from 1927-53. I love this song.
Washington Phillips - Denomination Blues, Part I